Quality assurance builds trust
Customers want to know all kinds of things: where does the meat come from? How are potatoes grown? Are food products safe? QS helps food retailers to answer these questions! Make use of the information we provide. Your customers will thank you for it.
This commitment pays off. A recent survey shows that almost one in two respondents is familiar with the blue QS certification mark. Nearly 90 percent prefer a QS-certified product to a comparable product without certification mark. We want to continue to consolidate this trust with you – together as partners.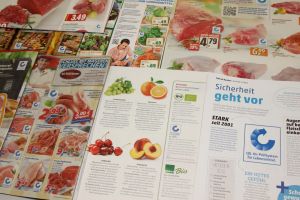 ---
The QS certification mark as a communication tool
QS certification mark - correct use
Through the proper use of the QS certification mark, you will help to achieve brand strength and recognisability and to give the customer a clear signal for safe food from companies with certified processes. Only products with strictly controlled production and marketing processes – from farm to shop - may be labelled with the blue QS certification mark.
The style guide informs in a compact form about the rules for the correct representation of the QS certification mark and its uses in communication. The catalogue includes numerous examples of the use of the certification mark in advertising media, packaging materials or in corporate communications to support you.
Click image and read online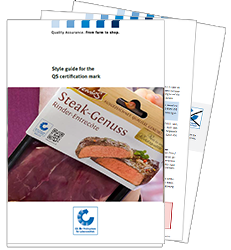 ---
We provide the customer with clear information
Our QS-live. Quality Assurance Initiative consumer information campaign was launched back in 2011. The EU-sponsored campaign is designed to establish the certification mark even more firmly in the minds of consumers as a dependable symbol of quality.
All scheme participants can take part in QS-live: as ambassadors, with their own customer promotions or as cooperation partners of the Quality Assurance Initiative. We look forward to your involvement.
Feel free to contact us!