Aflatoxin: More consequences drawn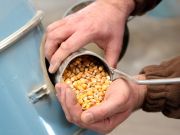 The industry took action quickly: For corn and corn processing products from certain countries, 100% monitoring has to be carried out until further notice. This is stipulated by the ad hoc monitoring plan established within the scope of QS Monitoring and valid since 1 July 2013.
With the revision of the Guidelines Feed Sector and Feed Monitoring which has just been completed, the economic operators are drawing additional consequences from the detection of the mycotoxin aflatoxin in feed corn. In future, the QS scheme will be able to establish ad hoc monitoring plans as soon as potential risks become known. By doing so, we will be able to respond to risks quickly and consistently, is how Katrin Spemann of QS explains the procedure. The currently valid ad hoc monitoring plan is directed towards compound feed producers, feed material producers, small-scale feed material producers and feed traders in the QS scheme. The outline conditions for sampling have also been specified. Feed producers and traders must be able to prove in future that every ocean-going vessel and every variety of raw material (e.g. corn and wheat) has been taken into account in the location-specific sampling plan. Sampling must include all of the hatches and holds of ocean-going vessels.
All of the changes that came into effect on 1 July can be reviewed in the respective revision information at the download centre. The first revision due to findings of aflatoxin was made as long ago as May 2013.