Auditor trainings 2012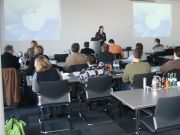 With finishing the last training course in 2012, QS presents the first annual review in October already. This year, QS employees have held a total of 32 auditor trainings in ten different cities. Three of them where held in English to satisfy the needs of foreign auditors. During these training courses, the 476 QS-approved auditors wrote 1,361 tests altogether. 87% of them were passed straight away – an indication for the high quality of QS inspections.
The training courses serve to provide auditors with specific knowledge on the different stages of the QS scheme. Practical case studies and discussions shall assure that audits are performed in a harmonised manner. To make sure, that the contents have been understood and are to be sustainably applied, learning achievements are reviewed in a test at the end of each training course. To maintain their QS-approval, auditors must attend at least one specific training course a year and pass a test for each stage in which they perform audits. As of 2013, the requirements on auditor trainings will be tightened up further – from thereon a separate training course must be attended for each stage of approval.