Cooperation between QS and GMP+: a benefit for the entire chain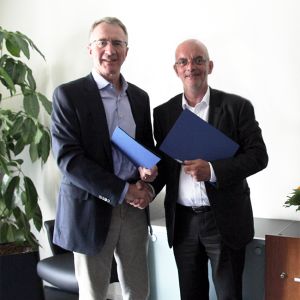 Dr. Hermann-Josef Nienhoff (Director QS Qualität und Sicherheit GmbH) after contract extension with Johan den Hartog (Managing Director GMP+ International)
More than 6,600 feed companies currently use the mutual recognition between QS and GMP+ Int. By the large amount of international participants of quality assurance, the entire supply chain benefits – from farm to shop.
The cooperation between QS and GMP+ Int. continues and has been extended. This emerges from the agreement both parties signed on 29 June 2016 in Bonn.
The contract extension includes the following novelties:
GMP+ businesses, wishing to deliver into the QS scheme, are obligated to conduct unannounced audits. In return, there is an obligation for QS certified businesses to perform audits annually, corresponding at least to the GMP+ surveillance audits. Therefore, the spot audit checklist has to be extended and applied after a transitional period of one year. In addition to changes regarding the incident management (starting to use the International Crisis Journal (ICJ)), the requirements for laboratories of the GMP+ scheme have been raised.
The agreement between both quality assurance systems has existed since 2005. Initially, the cooperation was restricted to a unilateral recognition by QS. However, in January 2006 a mutual recognition was decided. The contract extension confirms the joint efforts of GMP+ and QS and seal the close collaboration.