EHEC: Increased Caution with Surface Water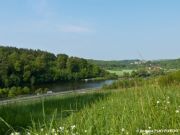 According to a joint announcement by the Social Ministry and Ministry of the Environment, Agriculture and Consumer Protection of the State of Hessen, the EHEC pathogen O104:H4 has been detected in a stream near Frankfurt called Erlenbach.
As a precaution, QS recommends that producers who use running and standing water to irrigate their fields intensify the testing of their products and sprinkler water for the EHEC pathogen. This applies above all in regions in which EHEC diseases are known to have occurred.
According to information provided by the Federal Institute for Risk Assessment (BfR), the EHEC bacteria can find its way into waters from many very different sources. Particular attention should be paid to the possibility of introduction from pastures and wastewater of sewage works. Water of this kind can contain EHEC bacteria which were not completely killed off in the sewage works after having been introduced through the excretions of infected persons. Germs of this kind have also been detected sporadically in the past, however, and are not unusual in surface water.
In the meantime, the results of 3,340 tests for EHEC bacteria have been received by QS from scheme participants. All of the results continue to be negative.