EU changes the specifications for residue analytics of kohlrabi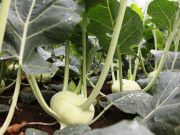 From 1st April 2013 should only the bulb for kohlrabi - after removal of roots, tops and adhering soil (if any) – be analyzed for compliance with maximum residue levels defined in the regulation (EC) No 396/2005. This was decided by the EU Commission with the Commis-sion Regulation (EU) No 212/2013 of 11th March 2013 replacing Annex I to Regulation (EC) No 396/2005 of the European Parliament and of the Council.
With the new Regulation the provisions of Commission Regulation (EU) No 600/2010 were reversed. This regulation stipulated that the whole product including the kohlrabi leaves had to be analyzed.
If the kohlrabi is marketed with leaves, starting from 1st January 2017 the leaves have to be analyzed individually. The permitted maximum residue lev-els for kohlrabi leaves then are regulated under Leaves and sprouts of Brassi-ca spp. in annex I of Regulation (EC) No 396/2005.