FAQ system gives answers to the most frequently asked user questions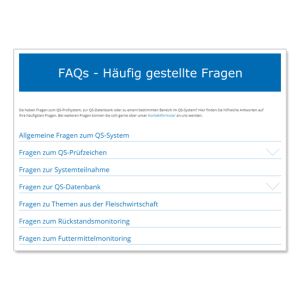 You want to know how the QS scheme work and which requirements the scheme participants have to fulfil? What kind of requirements have to be met for participating in the QS scheme? You will find the answers to these and many more questions at the QS homepage at the category FAQs.
In our FAQ system frequently asked questions about the scheme participation, the QS certification mark, the QS-database, the meat sector, the residue and feed monitoring programmes as well as general questions are answered.
The FAQs are available through the item FAQs, which is included in the header. Additionally, all relevant sub-pages offer links, leading to the thematically suitable FAQ categories.
If you have any comments or further questions, please contact us via contact form.