First logistics coordinator from abroad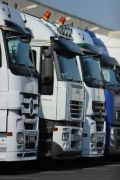 With its certification in June 2013 the spanish company Agridesk has been the first foreign logistics coordinator within the QS scheme. Since then, Agridesk ist entitled to organise participation in the QS scheme for spanish transport companies. With its registration, the company responded to repeated requests regarding certification against the QS logistics standard from abroad. The bundeled transport companies and freight forwarders can either apply for a certification against the QS logistics guideline or use the the possibility to deliver into the QS scheme by recognition of their IFS logistics audit.
Consistent quality assurance doesn't stop at transhipment stores or truck loading bays. For this reason, QS offers a standard for logistics of fruit, vegetables and potatoes since 2013. With the certificate, freight forwarders can document inspected logistical processes and compliance with all hygiene standards. This, in combination with fast and comprehensive traceability, are important prerequisites for gapless quality assurance.