Fruitful discussions at the Fruit Logistica 2015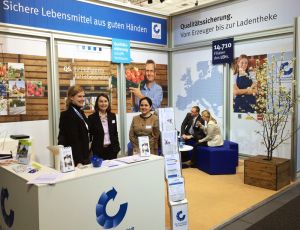 The Fruit Logistica is the leading meeting place for national and international experts of the fruit and vegetable sector in Germany. This year, around 65,000 visitors from 130 countries came by - a new record. We are more than satisfied with the outcome of this year's Fruit Logistica, says Wilfried Kamphausen, responsible for the supply chain fruit, vegetables, potatoes within QS. The QS exhibition booth at the booth of the Bundesvereinigung der Erzeugerorganisationen Obst und Gemüse e.V. (BVEO) enjoyed numerous visitors from Germany and abroad. Many of them used the opportunity to get the new edition of the monitoring report fruit, vegetables, potatoes that QS and the Deutscher Fruchthandels Verband (DFHV) just had published.
Beside the good visitor frequency, many meetings with existing and potential scheme participants contributed to the success of the event. Especially with industry representatives from Southern Europe, we were able to get into an intensive, professional exchange and established important contacts, Kamphausen sums up. In addition, the QS logistics standard, which is mandatory since 2015, was a frequent topic of conversation. Another opportunity for exchange offered the Blaue Stunde on Thursday evening. According to the motto Working together, celebrating together QS and the BVEO invited co-exhibitors and business partners of the fruit and vegetable sector to a friendly get-together.
During the fair, a meeting of the European Network for Standards in fruits, vegetables and potatoes (A-NET) took place. Encoders from Austria, England, Belgium, Switzerland and Germany discussed the latest developments in quality assurance for fruit and vegetables. Just one day before the trade fair opened, the managers of QS-approved laboratories met for their annual exchange of experiences in Berlin. More than 60 participants from Germany and abroad discussed the revisions in the QS scheme and current challenges in the laboratory analysis.
The date for the upcoming Fruit Logistica is already set: the fair will take place from 3 to 5 February - of course QS will be there again!