Implementing random sample audits 2012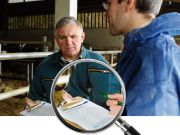 As in the years before, unannounced random sample audits will be conducted within the QS scheme during the next months. The audits focus on particularly important requirements, such as hygiene or animal welfare.
Implementation of corrective actions is also one of the main inspection criteria. Random sample audits in the feed sector focus, for instance, on positive release sampling of fats and oils before marketing .The results must have been entered in the QS database. In food retail, auditors will concentrate on inspecting both cooling and labeling of QS goods.
Due to focusing on certain criteria, conducting random sample audits requires less time than conducting regular audits. QS will cover the monetary costs for these random sample audits.