Info letters 02/2013 published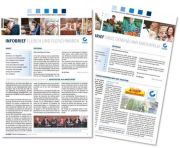 Cross-stage quality assurance has many facets. QS presents some of these in the latest info letters. Therein you will find specific reports for the supply chains meat and meat products and fruit, vegetables and potatoes.
Among others, we present a summary of the expert workshop Renouncing piglet castration, which was organized by the Federal Ministry and QS. The industry has joined forces to deal with the aflatoxin founds in feed an taken immediate consequences. Details are given in the infoletter meat and meat products. In addition to that, QS-live ambassador, butcher Franz Seibold, tells in an interview, why quality assurance is so important for his work.
QS welcomes a new scheme participant in the supply chain fruit, vegetables and potatoes. The food retail company Netto Marken-Discount now also relies on QS-certification for fruit, vegetables and potatoes.
Furthermore you will read in the infoletter for fruit, vegetables and potatoes, what should be taken into account when using rubber gloves and how harvest losses caused by birds can be avoided.
Both infoletters can be downloaded in the mediacenter of the QS homepage. If you would like to receive our info letters regularly, please register for our free e-mail service.