International Meeting of Laboratory Mangers in Berlin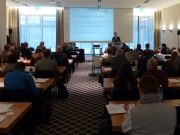 More than 60 executives from Germany and abroad took part in the annual Laboratory Managers' Meeting Residue Monitoring in Berlin. On this occasion the experts learned about news from the QS scheme and new facts from the analysis of residues in fruits, vegetables and potatoes.
In the supporting program two external experts shared their experience: Dr. Iris Suckrau from the Lower Saxony State Office for Consumer Protection and Food Safety (LAVES) und Monika Richter from BASF.

In her presentation Dr. Suckrau emphasized that laboratories have to deal with quality assurance measures and corresponding questions every day. She gave an overview about changes in the DG SANCO Document No 12495/2011 about Method Validation and Quality Control Procedures for Pesticide Analysis in Food and Feed that is in force since 01.01.2012.

Another focus was put on the analysis of diathinon, an active agent in fungicides for application in fruit, vegetables and potatoes. Monika Richter reported among other facts about the validation of analytical methods for the detection of diathinon. The background of her presentation is the change in the QS-guideline Residue Monitoring. According to this, laboratories have to have an method accreditation for following active agents: Chlormequat, Ethephon, Dithianon, Dodin, Phenoxyalkanecarboxylic acids, Phenylurea, Maleic hydrazide. Analysis of these individual or group methods is prescribed in the QS control plan for specific products in addition to multi-methods.