Meeting of Laboratory Managers 2017: Professional Exchange of International Laboratories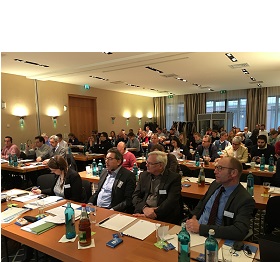 On 7 February 2017 the annual meeting for laboratory managers in the QS scheme took place. About 90 participants from Germany and abroad accepted the invitation to Berlin and were updated for their function within the QS residue monitoring and to exchange practical experiences.
As guest speaker, Dr. Jürgen Heidrich from the LGC Labor GmbH opened the presentation series of the event with his lecture about organic standards for residue analysis. Mr. Andreas Hentschel, deputy chairman of the working group pesticides of the German Lebensmittelchemischen Gesellschaft, took up the current question on the analytics and the residue assessment of folpet/phthalimide evidences. In addition to the results of the laboratory performance assessments in 2016, Dr. Gustav Offenbächer, scientific advisor for residue analysis and quality assurance, presented a professional analysis as well as analytical support for the deviations in the laboratory performance assessments 2016. Complementary discussions on the analysis and reporting of pesticide residues rounded off the meeting.
The responsible employees of the laboratories, including participants from Italy, Spain, Poland, Turkey and Switzerland, exchanged in lively discussions accompanying the presentations. The vivid and constructive conversations among the participants once again showed how useful this forum for mutual exchange is, reports Claudia Rotter, responsible for the residue monitoring laboratories in the QS scheme.
The meeting is traditionally held on the opening day of the Fruit Logistica.