Mega-trend convenience in the current QS Report Meat and Meat Products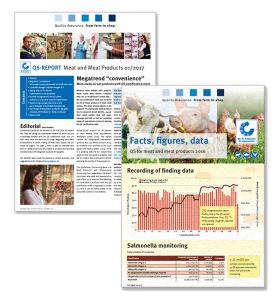 The market share of convenience products increases constantly and the online trading with fresh food flourishes. This results in new challenges for the industry, for example the assurance of food safety. In the current QS Report we are looking at the challenges and possibilities when purchasing meat on the internet as well as the participation of online traders in the QS scheme. You can also read about how QS takes account on the rising popularity of convenience products.
Apart from these and other exciting topics you will find an insert with current facts and figures on the performances of the QS scheme and its partners in 2016.
You want to receive the QS Report via e-mail regularly and free of charge? Simply register on the QS website under Press and Publication.