Monitoringreport 2015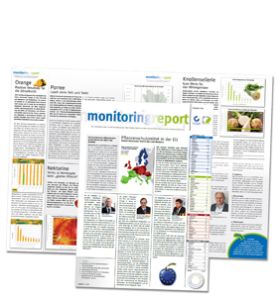 Residues of pesticides in fruit and vegetables are dropping further: 99 percent of samples below the maximum level
Consistent quality assurance with fruit and vegetables is bearing fruit: 99 percent of all samples examined for pesticide residues were below the legal maximum limits. This is substantiated by the jointly conducted evaluations of the monitoring programmes of QS Fachgesellschaft Obst-Gemüse-Kartoffeln GmbH (QS) and the German Fruit Trade Association (DFHV). The analysis results are summarised in the Monitoringreport 2015 which will be published in the course of the Fruit Logistica fair.
For the latest Monitoringreport, QS and DFHV examined a total of 17,306 samples from 73 countries between 1 October 2013 and 30 September 2014. No residues of plant protection products of any kind were found in 38.4 percent of all analysed samples, which means that the positive trend of recent years is continuing. Whereas the rejection rate in 2006 was still as high as 2.6 percent, only 1.1 percent of samples were rejected in 2013. It thus lay a further 0.2 percentage points below last year's figure.
This positive trend shows that the monitoring programmes run by QS and DFHV pay equal dividends to the industry and consumers: The good work of the producers and consistent implementation of the requirements on the use of plant protection products have contributed towards ensuring that the residue situation has steadily improved with fruit and vegetables over the last few years. This boosts trust between trading partners while also raising customers' trust in safe food, sums up Dr. Hermann-Josef Nienhoff, Managing director of QS Qualität und Sicherheit GmbH. DFHV Managing Director Dr. Andreas Brügger adds to this: The results of the Monitoringreport prove once again how safe fruit and vegetables are in Germany. Consumers can be sure that they are getting safe, healthy and high-quality produce.
In addition to presenting the overall results, the sixth edition of the Monitoringreport contains detailed analyses of the residue situation with celery root, leeks, nectarines and oranges. Another area of main emphasis in the Monitoringreport is the zonal approval of plant protection products that was introduced throughout the EU in 2011. Representatives of the industry report on the current status and on their experiences in Germany, the Netherlands and Belgium.
The Monitoringreport 2015 can be downloaded at the DFHV homepage (www.dfhv.de) and from the media catalogue at the QS homepage (www.q-s.de). You will also find photos there which can be used in a press release.