New: Analysis results of the QS feed monitoring now retrievable interactively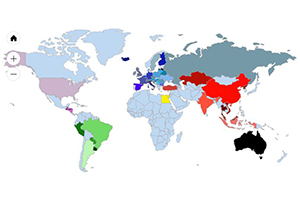 From what countries are raw materials in the QS scheme obtained? Which raw materials originate from Brazil or the US? And what kind of anomalies are there for each respective feed? The new interactive world map on the QS website shows the latest country-specific analysis results of the QS feed monitoring and can be used for internal risk assessments.
High-quality feed is essential to ensure optimum livestock nutrition. Thus, consistent monitoring of the compliance with limit and guidance values, e. g. for mycotoxins and heavy metals are of vital importance. The QS feed monitoring gives a detailed overview of the residue situation in the international feed sector.
To see the analysis results, just click on your country of choice.