New edition of the QS-Report Meat and Meat Products released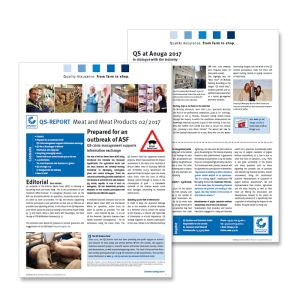 The new QS-Report Meat and Meat Products, issue 2/2017, has been released and can be read and downloaded in the Media Catalog on the QS website as of now.
Together with the companies Erzeugerring Westfalen, Westfleisch, VzF Uelzen and LQB Bayern, QS is currently carrying out practical projects to verify the practicability and reliability of the calculated animal health indices. During the projects, expert advisors working in pig fattening farms evaluate, if the calculated indices correctly reflect the on-site realities on those farms during the relevant time period. Read more about this on page 3.
Another topic in the current issue is the possible outbreak of the African Swine Fever (ASF) in Germany. In the frame of the QS crisis management, QS has specified a series of precautionary measures as well as measures in the case of an outbreak. For this, a functioning early detection of possible introductions as well as a rapid flow of information are crucial.
Would you like the QS-Report to be sent to you via e-mail regularly and free of charge? Just sign up on the QS website in the Press and Publication section.