New Info letter meat and meat products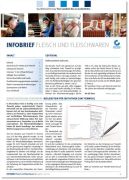 Animal welfare in Germany is set to improve even further in the future. With industry-wide initiatives for animal welfare, farmers, meat producers and food retailers have committed to fair and sustainable meat production. This is why in the current Info letter meat and meat products, issue 03/2013, we put a special focus on the Animal Welfare Initiatives for pig and poultry.
In the current Info letter you will also gain information on why QS-live ambassador Josef Hupfer participates in the QS scheme and new international recognitions.
You can download the Info Letter 03/2013 by clicking here. If you would like to receive our Info letters regularly, please register for our free e-mail service.