New issue of QS-Report fruit, vegetables, potatoes released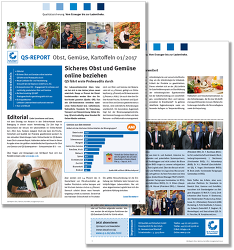 The online trade with fresh food gets going. The distribution channel via the internet increases and the stationary retail tries to keep up with its own online shops. As of now, QS enables scheme participation as well as auditioning of online retailers. You can read more about this in our new QS-Report fruit, vegetables, potatoes which is available for download in the Media Catalog on the QS website.
Furthermore, in this issue we present the new guideline Preparation and Processing which had been released in the course of the 2017 revision in detail. The spring edition's insert provides facts and figures on the QS scheme and everything we were able to reach together with our partners in the sector fruit, vegetables, potatoes in 2016.
Would you like to receive the QS-Report regularly and free of charge by e-mail? Please register on the QS website under Press & Publications.