New: QS-Report Fruit, Vegetables, Potatoes 1/2016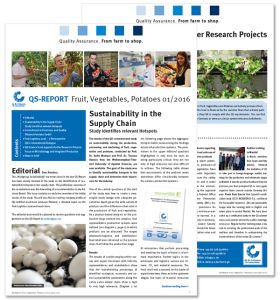 A new issue of the QS-Report Fruit, Vegetables, Potatoes is published and now available for download on the QS website under Media Catalog.
Our focus in this report is sustainability in the supply chain of fruit, vegetables and potatoes. With the collaboration of Prof. Dr. Heike Mempel we prepared the results of the study on the identification of sustainability hotspots.
Christian Nacke, Managing Director at Pilzland, gives an insight into the quality management of the production of mushrooms. Other topics are: review of the Fruit Logistica, further research projects of the QS Science Fund and much more.
In addition, the insert of this spring issue provides an overview in numbers of the performance of the QS scheme and its participants in 2015.
To obtain the QS report regularly and free via e-mail, please register on the QS website under Press & Publications.