New: QS-Report Meat and Meat Products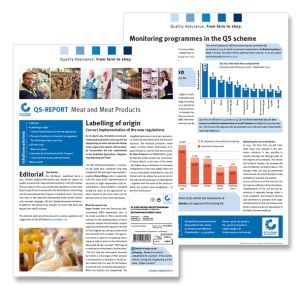 The new QS Report Meat and Meat Products, issue May/2015, is published and can be read and downloaded on the QS website under Publications. We will offer the report twice a year. It contains a concise overview of current topics of quality assurance in the QS scheme and the meat industry.
In the first issue of 2015, we report – among other things - about the practical implementation of the new regulations on the labelling of origin for pork and poultry as well as about news of the consumer campaign QS-live. You will also learn what the QS therapy index means and how it can be used in reducing the use of antibiotics. In addition, the insert of this spring issue provides an overview in numbers of the performance of the QS scheme and its participants in 2014.
To obtain the QS report regularly and free via e-mail, please register on the QS website un-der Press & Publications.