New QS Standard for Logistics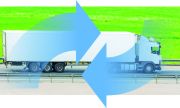 QS is to offer a standard for the logistics of fresh fruit and vegetables from 1 January 2013. After a transition period of two years, all transports within the supply chain Fruit, Vegetables and Potatoes may only be performed by certified service providers who are registered in the QS database. To allow freight forwarders´ participation in the QS scheme in a realistic manner and avoid double certification, QS recognises the IFS Logistics certificate as equivalent.
The requirements of the new standard mainly focus on the traceability of goods as well as hygiene. They are summarised in the Wholesale/Logistics guideline. According to this guideline, logistical service providers are companies involved with the handling of fresh fruit, vegetables and potatoes including processed products (e.g. fresh cut) from a logistical perspective through transport, shipment, loading and unloading. This covers all activities connected with delivery by truck (road transport) and short-term storage for the purpose of trans-shipping the goods during delivery. Agricultural transports are exempted from this.