New Supporting Document on Microbiology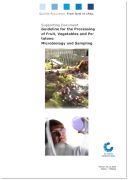 A new Supporting Document on Microbiology and Sampling explains scheme participants how the requirements of the Guideline Preparation Fruit, Vegetables and Potatoes are to be implemented. The document provides producers of processed products with an overview on microorganisms relevant for the fruit and vegetable production and informs about their appearance and environmental behavior. It also provides tips on measures to reduce microorganisms as well as indications on sampling and different microbiological investigation procedures.
The obligation to perform a microbiological monitoring is part of the Guideline Preparation which came into effect on 1 January 2012. The guideline applies to all scheme participants in the wholesale stage and has been drawn up in response to the EHEC incidents 2011.