Papers of incident updated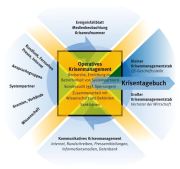 From now on, scheme participants can use revised notification forms to inform QS in the event of an incident. Papers of incident are now closer to practical realities. There are no more separate papers for individual stages or certification bodies available, but product-related notification forms. The papers of incidents for different stages have been merged.
The following notification forms are to be used henceforth:
Feed for scheme participants in the feed sector,
Animal (Husbandry and Transport) for scheme participants in agriculture and livestock transport, agricultural coordinators,
Meat and Meat Products for scheme participants in the meat sector (slaughtering/deboning, processing) and in wholesale and food retail,
Fruit, Vegetables, Potatoes for scheme participants in the fruit and vegetable sector (producers, coordinators, wholesalers, food retailers)
If scheme participants can not present an updated paper of incident during an audit after 1. January 2013, the requirement will not be evaluated as non-conformity. In this case, the auditors should inform the scheme participants about the updated notification forms.
You can find the updated papers of incident on the QS homepage under http://www.q-s.de/notification_in_case_of_incident.html.