QAC - scheme participants collect 9,000 test results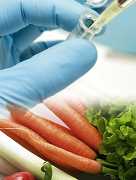 QS scheme participants actively participate in a monitoring program for the quaternary ammonium compounds Benzalkonium chloride (BAC) and Didecyldimethylammonium chloride (DDAC). Together with the member companies of the German Fruit Trade Association, they collected a total of 8.897 test results between 5th July 2012 and 31st January 2013 and transmitted them to QS. The results were now forwarded to the German Federal Office of Consumer Protection and Food Safety (BVL) and the German Federal Institute for Risk Assessment (BfR) in anonymous form.
Positive and negative results of products of the inland and foreign countries were recorded. Overall, test results from more than 100 different fruit and vegetable products from more than 60 countries were compiled. In 85 percent of 4,749 tests for BAC no residues of this disinfectant were detectable. From 4,157 tests for DDAC 83 percent were without residues.
The objective of the monitoring program is to determine a definite maximum residue level (MRL) for BAC in DDAC in Regulation (EU) 396/2005. The temporary maximum residue level which is actually applicable was determined by the European Commission in July 2012 as a reaction to increased residue findings of quaternary ammonium compounds in products of fruits and vegetables. In order to verify these values and allow a final ruling industry and official inspections were asked to collect further analysis results.
The assessment of the pan-European test results, also from other products is carried out by the EFSA.