Annual press conference 2012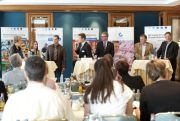 On 24th Mai 2012, QS Qualität und Sicherheit GmbH presented its latest annual report at the annual press conference in Frankfurt am Main. Under the headline Food you can trust it takes a look at what drove the economic operators in 2011 and highlight topics they commonly address in 2012.
Besides Dr. Hermann-Josef Nienhoff, Managing Director of QS Qualität und Sicherheit GmbH, the five members of the QS-live Quality Assurance Initiative gave an insight into their daily work and answered journalists questions at the press conference. Further information on the EU-funded information campaign QS-live. Quality assurance initiative can be found under www.qs-live.de (unfortunately only in German).
Excerpts from the press kit:
Photos to download: