QS at the Fruit Logistica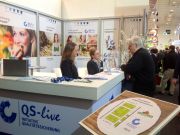 From 6th to 8th February 2013 the world´s leading trade fair for fresh fruit and vegetables is taking place in Berlin. About 55,000 trade visitors from 120 countries come to the FRUIT LOGISTICA every year. QS presents itself to the trade professionals as one of 2,543 exhibitors.
On our exhibition stand in Hall 20, A-02 visitors will not only get information about how quality assurance from the producer to the shelves for fruits and vegetables works within the QS scheme. The QS-experts will also inform about latest developments within the QS scheme like the establishment of a microbiological monitoring and a standard for the transport of fruit and vegetables. Besides they get a hot off the press version of the monitoringreport 2013.
In advance of the fair was a meeting with the managers of QS-approved laboratories on 5 February, 2013 to debate on innovations within the QS scheme and the analysis of residues. In addition to that there will be a meeting of the European Network for Fruit and Vegetables (A-NET) on 7th February 2013. On this occasion, the standard owners from Austria, England, Belgium, Switzerland and Germany will exchange information regarding new developments of quality assurance of fruits and vegetables. Sustainability and microbiology are on the agenda.