QS at the meat congress 2012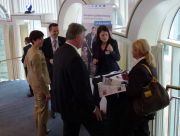 On 29 February 2012, the 20th German meat congress was held in Bonn. The annual meeting at the Petersberg is a fixed date for members of the meat sector. Accordingly, it is a must-attend for QS. At our information booth, we presented our EU-funded information campaign "QS-live. Initiative for quality assurance" and answered questions of our scheme participants in the sector.

Thank you for interesting conversations and an intensive exchange.