QS auditors expand their competence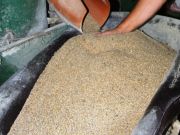 On 10th October 2012 QS invited the auditors in the feed sector to a workshop on risk-entailing processes in Bonn. 20 auditors followed the invitation and took the opportunity to enhance their knowledge of the fat and oil processing industry. Felix Bommer from the company Interharz offered interesting background information on production processes for oils, fats and biodiesel.
Through their participation in the workshop, auditors get a new approval which allows them to inspect risk-entailing processes in the feed sector. The respective requirement has been tightened by QS as a result of the dioxin incidents in the beginning of 2011. The improvement of auditor qualification is meant to ensure the precise assessment of critical processes in the feed production and thus contribute to the further improvement of feed safety.