QS feed monitoring: Focus on the international flow of goods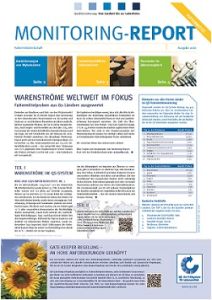 Feed samples from 80 countries evaluated
The current edition of the QS Monitoring Report Feed comprises the impressive data basis of around 2,5 million analysis results. The basis lies on the 173.000 feed samples of the QS feed monitoring collected during the last eight years. Of them, 24,278 samples were analysed in QS approved laboratories alone in the last 12 months. Having less than one percent of exceedances in the maximum levels confirms the consistent high level achieved in feed security. This is true beyond the borders of Germany and Europe, as 22 percent of the analysed raw materials' samples were from abroad.
The feed sector is characterised by an strongly ramified international flow of goods. QS currently has bilateral agreements with eight European Standard owners, which benefit more than 7,000 feed companies worldwide. The fact that we have achieved a consistently high level of feed safety is proven by the latest figures, explains Dr. Hermann-Josef Nienhoff, managing director of the QS Qualität und Sicherheit GmbH. The efforts to extend the cultivation of, for instance soy, in climatic suitable regions of Europe, will not be able to meet the needs in the foreseeable future, causing the dependence on imports from overseas. The great importance of a control of the feed without gaps becomes particularly clear, so Nienhoff on. In the QS feed monitoring all origins are consequently integrated – both directly via the QS Scheme participant or via the recognized standards.
Which raw materials in the QS scheme were sourced from which countries and what was analytically detected on them, is presented on the separate online publication Raw materials in the QS scheme. A removable poster with the most important results from the QS feed monitoring, as well as current facts and figures on contaminants in animal feed can be found in the Monitoring Report Feed. The report includes analyses of flow of goods and on different parameters as an annual comparison.
The new issue of the QS Feed Monitoring Report is published and now available for download on the QS website under Media Catalog.