QS in Spain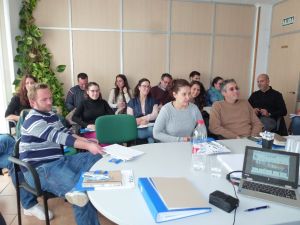 On 14 March 2016 an information event for Spanish wholesalers, producer organisations and coordinators as well as for consultants took place in Murcia (Spain). The event was organised by Uneport, an alliance of several agricultural cooperatives, in cooperation with QS. Nearly 20 participants accepted the invitation.
Among general information about the QS scheme, the participants got special information about the supply chain fruit, vegetables, potatoes. The QS residue monitoring was discussed as well as the crisis and incident management or the implementation of unannounced audits. Another focus of the event were the different functions of the QS database and their usage.
Overall, all parties were very satisfied with the meeting. The direct local contact with scheme participants strengthens the cooperation. Personally questions can be answered better than by phone or via e-mail says Gabriela Centeno, responsible for the support of scheme participants in southern Europe.
On 15 march, one day after the information event, a training for auditors took place in Madrid.