QS Laboratory Performance Assessment: expanded requirements, adjusted rating system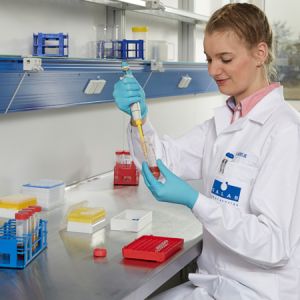 With the revision of the guideline Residue Monitoring on 1st January 2016, laboratory requirements has been expanded. In addition to the multi-methods now the analytic of the active substances dithianon, dodine, fenbutatin oxide and phenoxy alkane carboxylic acids have to be mastered as well. Within the current laboratory performance assessment three of these substances were tested.
Furthermore, the rating system, on which the participation of laboratories in the laboratory performance assessment are evaluated, has been adjudsted. The modified underlying rating system aims to increase the selectivity between the participating laboratories.These acts include for example additional deductions of points in case of repeated errors in consecutive tests.
Results laboratory performance assessment spring 2016
62 labs approved by QS meet the challenges of the recent laboratory performance assessment. 50 passed the test successfully, 29 scored the maximum number of points. They were able to identify and quantify all active substances from the prepared apple samples correctly.
Twelve of the 62 QS-approved labs failed the performance assessment. Thus they are obliged to take part in the Autumn Assessment. In addition to the 62 QS-approved labs, 23 laboratories, currently involved in the approval procedure, were participating. Only eleven of them passed the test successfully.