QS publishes Annual Report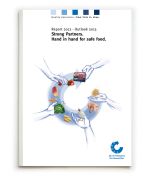 QS has published its Annual Report Strong Partners. Hand in hand for safe food. The publication's 40 pages comprise facts and data about the cross stage quality assurance in 2012 und present tasks and projects of the current year. The report can be downloaded from the QS-website.
One topic that is covered in the report is the recording of all prescriptions of antibiotics in the 2,600 poultry production businesses and the 25,000 pig fattening businesses in the QS scheme in Germany. That shows, that, together with the industry, QS tackles new tasks quickly. The antibiotics monitoring makes transparent how many and how often antibiotics are used in livestock farming and forms the base for the avoidance of resistances.
With the standard for logistics of fruit and vegetables the fruit industry goes new paths. The practical requirements were developed together with experts and specially tuned to fruit and vegetables logistics. The new standard is broadly supported by the 25,000 scheme participants in the Supply Chain Fruit, Vegetables and Potatoes.
More about these and other issues can be read in our Annual Report. It can be found on our homepage under: http://www.q-s.de/mc_annual_report.html.