QS-Report Fruit, Vegetables, Potatoes: second issue published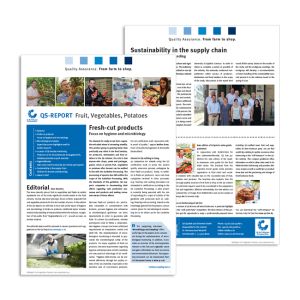 The second issue of the QS-Report Fruit, Vegetables, Potatoes is published and can be read and downloaded on the QS website under Publications.
Our focus in this report is hygiene and microbiology of fresh cut. We explain where the QS Guideline Processing provides support and Nadine Ernst from Bonduelle Deutschland gives an insight into the hygiene and quality management in the production of fresh cut fruit and vegetables. We also take a look at ten years of QS residue monitoring and the benefits that producers and laboratories have gained in that time. Other topics are: common understanding of the industry of sustainability as well as recognition of the QS audits from the Regionalfenster e.V..
To obtain the QS report regularly and free via e-mail, please register on the QS website under Press & Publications.