QS-Report Meat and Meat Products: Evaluate diagnostic data with animal health index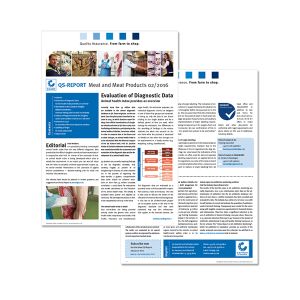 The new QS-Report Meat and Meat Products, 2/2016, is now available for download on the QS website under Media Catalog.
In the current issue, we are concerned with the question of whether it is possible to build up a meaningful animal health index from the very different diagnostic data provides by the official slaughter animal and meat examination? Together with Prof. Dr. Krieter from the University of Kiel, an animal health index is being developed which aims to satisfy this requirement. You can read all about how the index is compiled and what opportunities it opens up. In addition, you will read the results of a situation analysis of the economy for the phasing out of the piglet castration without anesthesia as well as the latest case numbers for pregnant animals for slaughter.
Would you like to receive the QS-Report regularly and free of charge by e-mail? Please register on the QS website under Press & Publications.