QS scheme for meat and meat products grows internationally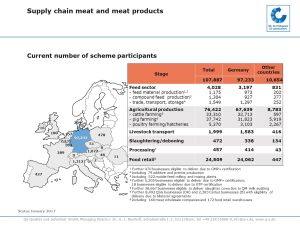 Compared to January 2016, the number of feed companies eligible to deliver goods into the QS scheme increased from 9,015 to 9,721 – a plus of 8 percent. The number of companies from abroad even grew by 23 percent. This positive trend is particularly noticeable in South-East Europe, including Czech Republic and Hungary. Here, the number of feed companies increased by 84 percent and in Poland, with 211 new companies, it has more than doubled. With 25 percent (363 new companies), the increase is mainly attributable to feed trade, transport and storage.
The number of QS contract partners also increased in the area of meat processing (plus 8 percent; 37 new companies) as well as in the area of poultry farming and hatcheries (plus 7 percent; 351 new companies). With an increase of 15 percent, currently 2,267 poultry farms are from abroad. Denmark (plus 174 percent), the Netherlands (plus 53 percent) and Poland (plus 41 percent) are particular highlights.
The current structural change in agriculture is reflected in the development of the cattle and pig farming figures. With a decline of three percent, 980 cattle farming businesses resigned from the QS scheme within the last year. A decline of two percent (780 businesses less) is recorded among pig production. With 33,310 QS cattle farming businesses and 38,667 businesses eligible to deliver slaughter cows into the QS scheme due to QM-milk auditing, about 90 percent of the German beef is still produced in companies certified against QS. Regarding pork, with 37,742 businesses the market penetration is about 95 percent.
Currently, 107,905 businesses of the supply chain meat and meat product are QS contract partners. With 70 percent, most of them come from livestock farming and food retail (24,509 stores). The companies come from 28 different countries – among them new in 2017: Thailand and Brazil.
The current figures of scheme participants are calculated each quarter by QS Qualität und Sicherheit GmbH and are listed for you here. The overview showing which new companies currently participate in the QS scheme you can find here.