Random sample audits 2013 – confirmation of results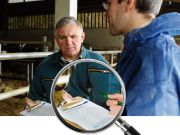 The evaluation of this year's random sample audits shows: quality assurance of QS scheme participants works. Auditors have checked 350 randomly selected businesses unannounced to verify that QS requirements are also met between regular audits. About 98 percent of these businesses have passed the additional inspection. Non-compliances that had to be evaluated as K.O were discovered in only six businesses.
Main focuses of this year's random sample audit included crises management, animal welfare at abattoirs, hygiene and traceability. No main non-compliances could be found for these requirements, but one business did not monitor temperatures sufficiently.
Random sample audits at agricultural producers brought feed procurement, hygiene and animal husbandry into focus. Abnormalities in animal husbandry had to be evaluated as K.O. three times. K.O. evaluations always lead to sanctioning and non-compliances have to be corrected quickly.
Comparing businesses' actual antibiotics prescriptions with data entered in the QS antibiotics database has been a special inspection point this year. The comparison gave important clues to what extent the data is already entered today. If deviations were detected, data must be registered or supplemented immediately.