Regular and random sample audits 2015: Scheme participants achieved good results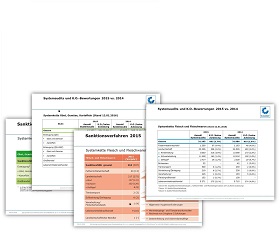 In 2015, 97 percent of the regular audits were successfully passed. The scheme participants demonstrated once again that they reliably and conscientiously fulfil the requirements put on them. The good results of recent years were confirmed.
In total, more than 43,000 regular audits were conducted in the supply chains meat and meat products as well as fruit, vegetables and potatoes. In only 2.8 percent of all inspections a nonconformity has been determined, leading to a K.O./ non-approval evaluation. 30,253 of the 31,105 performed regular audits within the supply chain meat and meat products were passed successfully. Audit results of meat processing and meat wholesale businesses turned out to be particularly positive. Here, the share of K.O. evaluations was less than 1 percent. Only hatcheries implemented the QS requirements more thoroughly – no K.O. evaluation has been given at all. With a total of 364 (3 percent) K.O. evaluations, the auditors approved for the supply chain fruit, vegetables and potatoes had to give 21 K.O. evaluations less compared to the previous year. All in all 11,893 audits were passed successfully.
Random sample audits 2015
As in previous years, random sample audits at scheme participants in Germany and other countries were conducted in 2015. The results show: companies in the QS scheme are working reliably – they convince even in additional inspections. More than 98 percent of all 1,041 audited companies passed the random sample audits. At only 18 companies nonconformities were determined which had to been constrained with a K.O. evaluation.
Particularly convincing were the randomly selected businesses within the feed sector, cattle farming, poultry farming, hatchery, livestock transport as well as meat processing and meat wholesale. In the course of the 84 conducted random sample audits a K.O. evaluation was given only once. A similar positive picture showed up at the supply chain fruit, vegetables and potatoes. In total, 729 random sample audits were performed, 721 (98.9 percent) of them with a positive result. Among the 729 random sample audits are the audits commissioned by QS (20) as well as the obligatory random sample audits within the QS-GAP system (655). Within the food retail sector, the share of K.O. evaluations was 7 percent.
An overview of the current evaluations will be available soon here.