Residue control plan 2013 published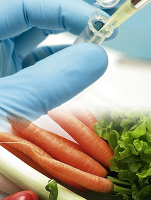 QS has now published the new control plan for the residue monitoring. It has previously been adopted by the scientific advisory board. While the risk level for many fruits (including sour cherries, nectarines and outdoor strawberries) has been reduced, the results for vegetables are mixed. Cucumbers, radishes, bunched carrots and Chinese cabbage were classified in a lower risk group due to good residue data and need to be analyzed less frequently next year. Celery roots and stalks, aubergines, parsnips and turnip however had to be moved to a higher risk category. The new control plan will be published on 1st December 2012.
The control plan for the QS residue monitoring defines the number of samples which have to be taken for each product in relation to the traded goods per year. The revision of the control plan is based on evaluation results of the QS residue data by means of the already proven risk index. For a final determination of the product-specific risk groups further expertise, relevant external data sources and other factors, such as product-specific characteristics and the product's country of origin were considered.