Residue specifications in focus of the new QS-Report Fruit, Vegetables, Potatoes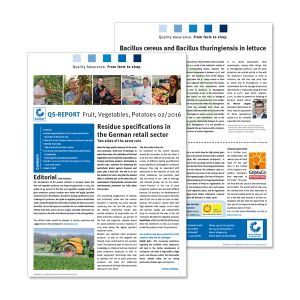 A new issue of the QS-Report Fruit, Vegetables, Potatoes is published and now available for download on the QS website under Media Catalog.
The cover article is about residue specifications in Germany. The trend in the residue situation in Germany shows that fruit and vegetable producers are doing very good work. In 2015, the results of 99 percent of the fruit and vegetable samples tested for plant protection product residues were below the legally specified maximum levels. Nevertheless, the diverse trading specifications pose challenges for producers. We spoke to vegetable producer Rudolf Behr and Dr. Britta Michalski from the Federal Institute for Risk Assessment (BfR) about this.
Also in this report, we introduce the QS-certified wholesaler UNIVEG Trade Italy, and Dr. Marcus Langen, specialist veterinarian for food, reports on the risks of foodborne bacteria in fruit and vegetables
To obtain the QS report regularly and free via e-mail, please register on the QS website under Press & Publications.