Revision Ad-hoc Monitoring plan Aflatoxin B1 in maize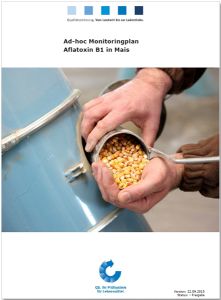 On 2nd February 2016 the Ad-hoc Monitoring plan Aflatoxin B1 in maize has been revised. As part of the revision the changes made in substance are valid with immediate effect.
The revised Monitoring plan includes new risk classifications for the countries of cultivation Ukraine and Canada. For the cultivation country Ukraine the risk classification has been increased from low into medium. However for Canada the risk of contaminated maize with Aflatoxin B1 has been classified as low. Thus, the risk classification has been reduced from medium into low.
Since July 2013 a special Ad-hoc Monitoring plan for Aflatoxin B1 in maize was implemented and adapted several times in the meantime to the particular crop and harvest situation. The reason for implementing the Monitoring plan was the increased contamination and exceedances of limit values of Aflatoxin B1 during the maize harvest 2012, detected by analysis results as well as reports of the EU Rapid Alert System for Food and Feed (RASFF).
The new Ad-hoc Monitoring plan, valid from now on, can be found here.