Sample audits 2015 also abroad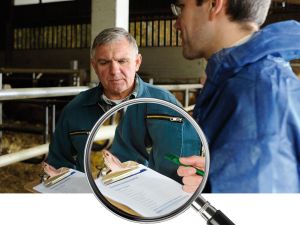 As in the previous years, the random sample audits in the supply chain meat and meat products, started in August 2015, have also been carried out at locations abroad. As part of the nearly 300 random sample audits commissioned by QS, seven foreign businesses have been examined. Five of them are slaughtering or deboning companies.
Currently three bilateral agreements with foreign standard owners exist in the field of pig slaughtering. Businesses, holding the certification of the Belgian Certus-System (Belpork v.z.w.), the Danish Global Red Meat Standard or the Dutch IKB-System, and additionally have become QS scheme participant, are eligible to deliver pork meat into the QS scheme. The international cooperations allow unimpeded flows of goods with comparable quality assurance. By taken bilateral arrangements QS is justified to conduct sample audits at these locations. The aim of the abroad sample audits is to review the functionality of the recognized standards and to monitor the compliance with QS requirement. Optimization- and harmonization measures are identified and implemented. Moreover the mutual trust in the other standard owner will be strengthened by jointly conducting the sample audits.
Random sample audits are a constituent component of the QS scheme integrity system and were performed regularly for more than ten years now. The businesses to be inspected are selected at random. By doing so, it is checked whether the requirements are also complied with consistently between scheduled regular audits.
Information on the results of the random sample audits 2015 will follow soon.