Scheme manual 2013 published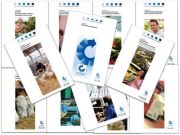 The guidelines an checklists which will come in to effect on 1 january 2013 are now available in the downloadcenter of the QS homepage. The accompanying checklists can be found in the section checklists for independent inspection. Please also note the respective revision information in which we have summarised all of the new developments for you.
We would like to express our sincere thanks for the constructive annotations during this years' commenting phase. All suggestions have already been included in the guidelines or passed on to the working groups for further discussion. Of course we will be glad to also be at your disposal outside the commenting phase. Under http://www.q-s.de/public_consultation.html you may express suggestions and criticism throughout the year. Or get directly in touch to our team.