Scheme participants meet requirements
In 2012, the auditors of the independent certification bodies conducted 30,138 regular audits on QS scheme participants in the meat and meat products supply chain – approximately 520 (1.8%) more than in the previous year. The evaluation of these regular audits shows that scheme participants meet QS requirements reliably.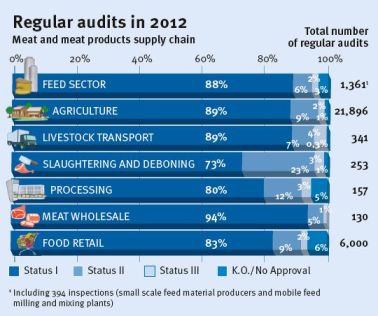 The 130 meat wholesale businesses complied with QS requirements to a particularly high degree: 94% of them achieved Status I. This status achieved in the audit is based on a high fulfillment level and benchmark for risk orientation. Status I is the best of three possible status and comes with the lowest audit frequency.
Most agricultural businesses (21,896 audits), companies in the feed sector (1,361 audits) and livestock transport companies (341) can also boast a very good level of compliance. In these stages, almost 90% of the audits were evaluated with Status I. This shows that quality assurance is working in these areas.
Major nonconformities were detected in a few cases only: about 98% of all audited companies passed the audit without receiving any K.O. assessments. Compared with the previous year, the number of K.O. assessments in 2012 fell from 674 to 632. Cattle farms (7,343 audits) and pig farms (12,864) were particularly impressive in this respect: they received a K.O. assessment in less than 1% of all audits.