Scheme participants prove reliability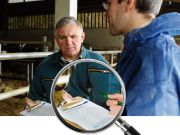 Companies in the QS scheme work correctly and meet the QS requirements even if they do not expect to be subject of a QS control. That is the result of the random sample audits carried out in 2012. More than 300 unannounced audits were performed at scheme participants between October and November 2012. The results are remarkable: 96.5 percent of the audits were passed.
Only eleven scheme participants got K.O.-evaluations. The most common reason for this was an incorrect implementation and documentation of self-assessment measures. Self-assessment is required by law and therefore necessary for the participation in the QS scheme. QS supports livestock owners and producers by offering a checklist for implementing self-assessment measures. Feed companies, wholesale and food retailers have to establish a concept of self-assessment which is oriented at the principles of HACCP.
Random sample audits are part of the QS scheme integrity system. They help to ensure that scheme participants abide by the requirements of the QS scheme between regular audits.