Strong commitment in strengthening of feed safety assurance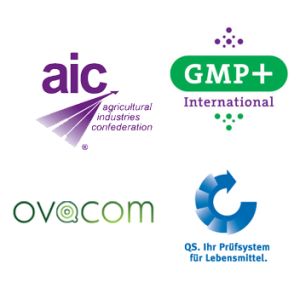 Four leading feed safety assurance scheme holders agreed to harmonize the requirements for purchase of feed ingredients and services. Leading principle is that every company in the supply chain should assure the feed safety by applying the best practises and demonstrate this via third party certification.
The four feed safety assurance scheme holders are Agricultural Industries Confederation (AIC), GMP+ International, OVOCOM and QS Qualität und Sicherheit. Each of these organizations manages a feed safety assurance scheme which covers the feed chain. These four scheme holders agreed about the main principles for harmonization of the purchase requirements in their certification schemes. The aim is to create uniformity, to improve transparency and to avoid (ab)use of the current differences by some feed companies. The result should be a better control of the feed safety in the whole feed chain.
Leading principle is that the suppliers in the chain should be certified against the own certification scheme or an equivalent one. For some products and origins, it is not possible to apply this main principle. In that case, different options of gatekeeping will be applicable. The four scheme holders committed themselves to limit the gatekeeping possibilities as much as possible and to apply the same conditions and criteria for the application of the gatekeeper options.
The final aim is to reach full harmonization of all crucial purchase requirements before end 2016. All scheme holders will work together and also within their schemes with their experts to come to this aim. The harmonization of the purchase requirements can also have consequences for the current mutual recognitions and in the future with (other) scheme holders covering parts of the supply chain.