Take a look at quality assurance along the meat supply chain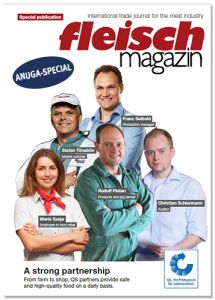 From food retail through meat processing and livestock farming to the strict inspection by unbiased certification bodies – with their daily work, more than 100,000 QS scheme participants from the international meat sector advocate for the production of high-quality and safe foods. But who are the people which actively produce, process and market foods according to clearly defined quality requirements? And which QS criteria have to be met on each single stage of the supply chain?
Together with the FleischMagazin, QS introduces five QS quality ambassadors from the meat sector in an Anuga Special and grants insight in the daily quality assurance – from farm to shop. In compact form, the special publication informs about the most important QS requirements along the meat supply chain and shows, how QS supports its scheme participants in their daily work.
The special publication can be read and downloaded in our media catalog on the QS website.