Your opinion counts! – Commenting phase 2014 has started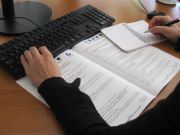 QS invites everyone to participate in this years' commenting phase of the QS scheme manual. From 18th November to 29th November 2013, scheme participants, auditors and all interested persons might express suggestions and criticism via an online contact-form. Comments will be carefully examined and answered individually. Guidelines available for comments can be found under: LINK
The new guidelines and documents of the scheme manual have been approved by the QS advisory boards in September 2013. The requirements have been editorially revised and contents have been tightened, so that they have become even easier to understand and more user-optimised.
There has been a renewal to the guideline poultry production, which now contains special animal welfare requirements. The guidelines for the supply chain fruit, vegetables, potatoes have among others been clarified with regard to pest monitoring.
You can leave comments not only during the commenting phase: constructive criticism and suggestions on our guidelines are welcome at any time – get in touch 24-7 via info@q-s.de.