Your opinion counts!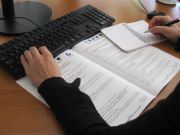 This year´s commenting phase on the English scheme manual begins on 16th November 2012. From this date, the guidelines which come into force as of 1 January 2013 will be published in advance on the QS homepage. For two weeks, auditors, scheme participants and the interested public get the possibility to inspect the documents and express suggestions and criticism.
The guidelines currently being published were approved by the QS advisory boards in September 2012. Before their entry into force in January 2013, QS seeks external advice. Those interested may inform themselves about alterations and get an impression of the requirements' practicability. Comments may be directly submitted to QS via a contact-form. Any suggestion will be carefully examined and answered individually.
The central renewal for the supply chain meat and meat products is the extension of the inspection system by unannounced controls. In future, scheme participants can either decide for unannounced regular audits or undergo an additional unannounced spot audit between two regular audits that will be announced in advance. For the supply chain fruit, vegetables and potatoes, especially the introduction of a QS-standard for Logistics will bring substantial changes. The supply chain will thus be extended by an essential element in order to assure the gapless control of the entire production and marketing chain for fruit and vegetables.