Observing and lowering the salmonella risk
With the salmonella monitoring in the QS scheme, farmers, veterinarians, abattoirs and laboratories have been actively contributing towards the quality assurance of foods for more than ten years.
The goal of the monitoring is to identify and remove the possible entry sources of salmonella into QS fattening businesses so that the number of infected or contaminated animals is reduced. The monitoring covers all fattening pig and poultry production businesses in the QS scheme.
Relevant documents
You can find the documents for your participation in the QS salmonella monitoring programme and the link to the salmonella database here:
---
Pig farming: effectively reducing the transmission of salmonella
Sampling for salmonella is either done at the abattoir by taking meat juice samples or in pig fattening businesses by means of blood samples drawn by a veterinarian. The samples are then analysed for the existence of salmonella antibodies in QS-recognised laboratories. The analysis results are recorded and evaluated in the QS salmonella database. Pig fatteners receive a status report on their results every quarter.
To support the veterinarians and farmers, QS has added a advisory module to the salmonella database. In this way, pig fattening businesses can be examined systematically for weak points, measures can be determined and the development of the business monitored.
---
Poultry production: paying attention and avoiding contamination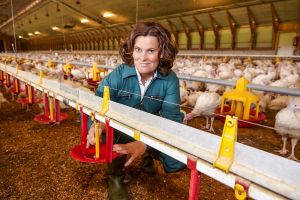 Sampling for salmonella is done directly at the poultry farming business or at the hatchery in the case of day-old chicks. The flock is tested for salmonella by means of boot sock tests shortly before slaughtering. If salmonella is detected during this test, the poultry farmer is obliged to initiate suitable measures to prevent it from spreading. The abattoir is notified of the examination results before the animals are delivered for slaughter and must ensure by taking specific actions that cross-contamination is avoided during the slaughter process.
---
Point of contact for questions and recommendations